Recruitment exercise for Happy-Ever daily star 2018
Company motto: assumption never produces bestsellers, at best they make tabloids.
Candidates requirements:
Long hair(extensions are acceptable)

Healthy weight and lifestyle

Single or divorced (without children)

Related to at least one crazy, bitter or cynical individual

Well spoken

Good carriage and public conduct.

Have very connected friends.
Essentials:
Must be productive/hard-working

Must be involved in charitable causes (with possibly a history of doing so from a young age)

Must be assertive (necessary for dealing with impromptu press appearances)

Must be adaptable to change

Humorous and good natured.
Due to recent events the company also advices that you acquire or get involved in one or two other special skills/activities not listed above. For example: global exploration, nature studies etc.
It is said that to do the same thing and hope to excel is folly, please be guided.
Our recruitment process is gruelling, do expect the unexpected and the possibility of a non-favourable outcome.
Assumption: the belief that you have all the details on any experience when viewing from a distance. It is to attempt to replicate the same experience without having full disclosure of the facts.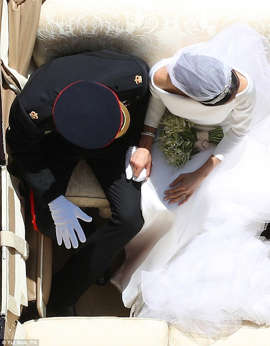 Photographer: Yui Mok
Organisation: Press Association.
Source: www.msn.com
N.B: happy married life H and M xxx